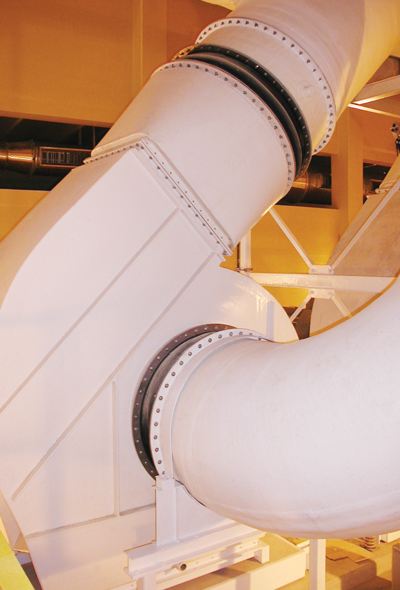 Chemical processing and odor control applications have corrosive air streams that can quickly deteriorate metal air handling surfaces such as coated and uncoated carbon and stainless steel.
FRP fans are manufactured utilizing corrosion resistant materials in their construction for extended service life in extreme environments. Verantis has focused on strengthening the corrosion barrier on its FRP fan line through the use of additional protective coatings and layers.
The Verantis line of rugged, lightweight fans features housings and impellers constructed of premium grade vinyl ester resin using C-Veil or optional NEXUS veil for all surfaces in the gas stream for maximum resistance to corrosive fumes, gases, and mists. Fan flanges conform to PS 15-69 FRP construction standards. This includes veil on all internal FRP surfaces and premium grade resins. Internal metal parts within the gas stream such as the shaft and bolts are encapsulated in FRP, thus providing superior corrosion protection. In addition, all internal FRP surfaces are topcoated with a resin rich layer to eliminate exposed glass fibers – so corrosion and wicking cannot start at protruding glass fibers. As a result of these precautions, corrosion resistance is enhanced and service life is greatly extended when compared with equivalent metal or coated fans.
The Comprehensive Corrosion Solution
Premium vinyl ester resin, C-Veil, and NEXUS FRP Materials
Flame retardant FRP fan housings with UVVIS protection
Fully encapsulated steel hubs and components in corrosive air stream
Heavy duty steel bases for higher stiffness and reduced vibration levels
Oversized fan shafts and bearings
FRP belt and shaft guards and weather canopies for increased longevity