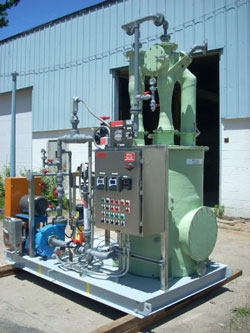 Verantis® offers pre-engineered gas absorption scrubber systems for standard applications to control your environment, including the MS Series Mini-scrubber, and IC Series, in a variety of standard sizes. These self-contained systems boast a small footprint and do not require interconnecting ductwork, making them ideal for operations with limited floor space.
Venturi scrubbers are typically used for the removal of fine particulate. Gas is accelerated at a high velocity through a venturi throat, where a liquid is introduced co-current to the gas flow. The high gas velocity creates a highly turbulent environment, which shears the scrubbing liquid into fine droplets. This amplifies the liquid surface area and mixing of gas and liquid to provide high efficiency particulate collection via impaction.
Venturi scrubbers combine a low price point with high removal efficiency, making them ideal to control your environment in a broad range of industrial and manufacturing applications. Verantis® offers a complete line of venturi scrubbers and can custom engineer any of these solutions to give you the right answer to your pollution and emissions control needs.
Our venturi scrubbers come in a variety of models to meet your unique needs: